Newcastle Airfield, Ireland
40 km south of Dublin, about halfway to Wicklow, we pull off the road and enter the aerodrome traffic area (ATZ) of Newcastle Airfield. Adjacent to the Birdwatch Ireland's East Coast Nature Reserve and giving onto the Muir Éireann (Irish Sea), the Newcastle Airfield comprises of a double hangar, some single pilot recreation planes and a grassy runway that is close to 700 metres long. The RAPID partners met here to go over safety measures before splitting into two teams for testing drone technologies at the ATZ and on a small bridge just a couple of kilometers up the rocky coast of eastern Ireland.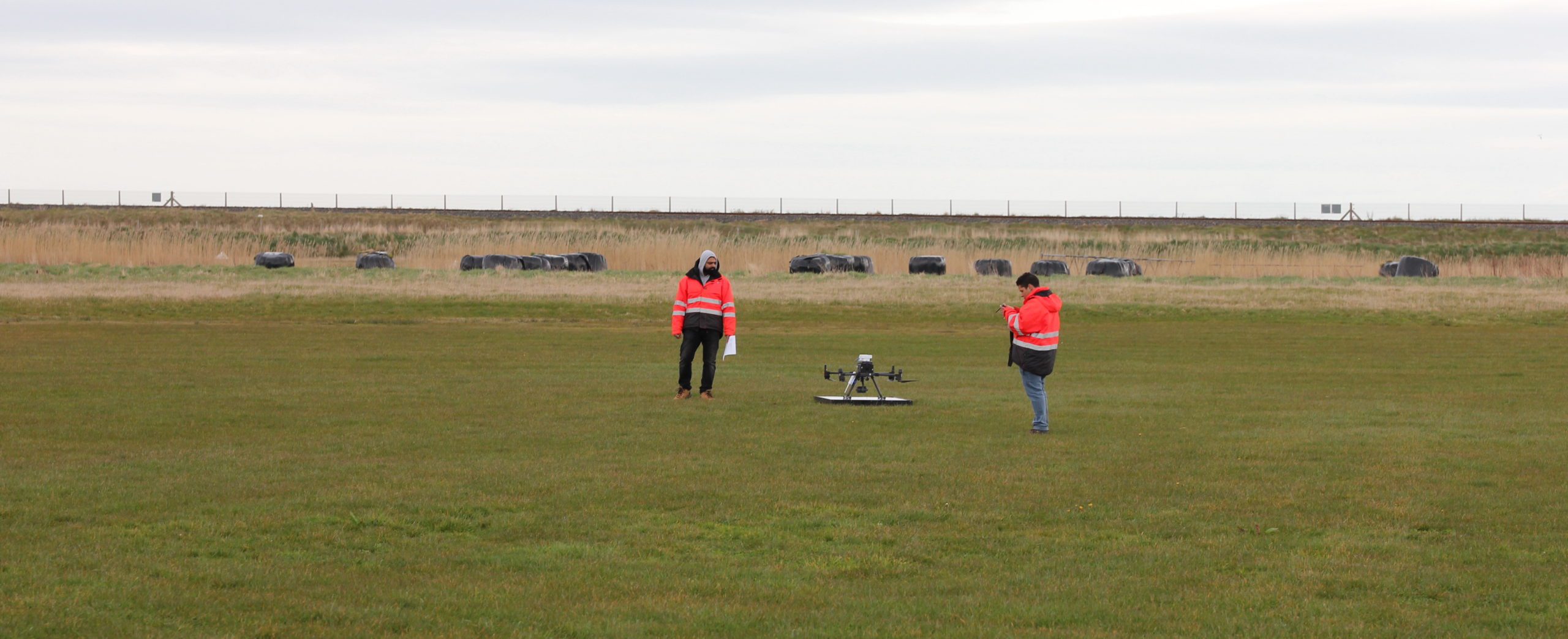 Seven tests were carried out over two days at two locations: location 1 was at the ATZ site, just west of the runway that is parallel to the sea. We learned that this is restricted airspace and that single planes practice take-off and landings here, going on a short circuit, looping out and over the sea and back again. Location 2 is a couple of kilometres north, just up the coast, on the stony beach next to the railway bridge where a tent was set up to monitor operations. The teams used DJI Matrice 300 RTK (Real-Time Connecting) drones that have centimeter accuracy and Mavik drones. We learned that the drones can go up to a maximum of 120 metres in altitude and that can record live footage on 3 tracks: 'Light Detection And Ranging' (LiDAR), thermal and 'Structure for Motion' (SfM) photogrammetry technologies.
Proper connection to GPS is primordial for drone-technology to work; and now RAPID is going beyond the GPS dependency to access GPS-denied areas with sensors and inter-operability between drones.
This team conducted an autonomous detect and avoid perception test for vehicle incursion. Simulating the incursion with a manned helicopter at various distances to the drone (500m, 1000m, 1500m and 2000m) and with onboard thermal imaging for acquisition drones. This system is an essential part in mitigating the risk for operating drones from distance Beyond Visual Line Of Sight (BVLOS) and is a core component of the RAPID system. Tests carried out included Unmanned Aircraft Systems (UAS) autonomous landing, emissions monitoring, detect & avoid perception, and Simultaneous Location And Mapping (SLAM)-based navigation.

This team tested mapping of the bridge infrastructure and the surrounding environment with Light Detection And Ranging (LiDAR) and Structure for Motion (SfM) photogrammetry technologies. They also tested detect and avoid perception using two drones flying simultaneously to survey the bridge. One drone is trained to detect and recognise the other to monitor unexpected elements Beyond Visual Line Of Sight (BVLOS), even if it was not part of surveyed infrastructure from the beginning. This detect and avoid perception was also tested at location 1 the second day with the helicopter as an example of an unknown flying object. Ultimately, RAPID drone technologies are moving towards cooperative sensor fusion systems, going far beyond the non-cooperative systems like static cameras.