Drone technology innovation to ensure transport safety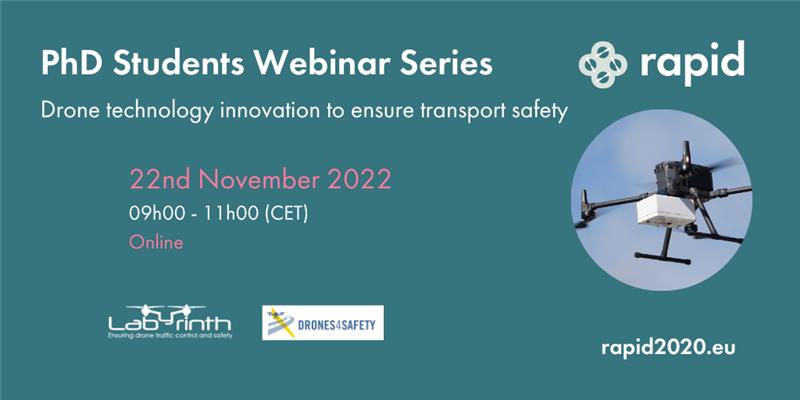 On 22 November, nine PhD students from 4 European universities will participate in the webinar Drone technology innovation to ensure transport safety, jointly organised by the European projects RAPID, Drones4Safety, and Labyrinth. 
The virtual session will take place from 09h00 to 11h00 (CET). The PhD students will share with all attendees their knowledge on the latest research in drone technology and its implementations in transport safety management. In addition, the European projects Drone4Safety, RAPID and Labyrinth will present their latest developments. 
The PhD students come from 4 different European universities, all involved in the three European projects. Drone4Safety will involve 2 PhD students from University of Southern Denmark (SDU) who will talk about "Multi-UAV path planning for continuous linear infrastructure inspection" and "Magnetic energy harvesting for charging drones from overhead power lines". 
RAPID will invite 4 PhD students from University of the West of Scotland (UWS) and University of Limerick to talk about "An MLOPs Approach to Deploy Trustworthy AI for Drone-Drone Detection & Localisation", "Intelligent Drone Perception using Airborne RADAR", "Automated High-Resolution Inspection – Workflow for Unknown Structures" and "Automated Landing System for M300 drone to ASV". 
And Labyrinth will involve 3 PhD students from University of Carlos III (UC3M) to talk about "Performance analysis of path planning and conflict management strategies for multi-UAV systems", "Path planning network service: design and architecture", and "Communication infrastructure manager for fully connected RPAS".